Face Analysis
For the 1st time, your personal​ Makeup Artist in your hand!
ModiFace's Face Analysis is an ultra-personalized makeup recommendation experience based on the AI diagnostic of 20 facial features from just a selfie. Get custom tailored looks created by expert Makeup Artists that fit your face perfectly.
Our technology can detect over 20 face characteristics, including:
Skin Tone
Undertone
Face Shape
Eyebrow Shape
Eyebrow Thickness
Nose Shape
Eye Colour
Eye Type
Hair Color
Hair Type
Hair Length
Mouth Shape
How Does It Work?
Snap a selfie
We scan your face than securely delete your image
Review your results
Tell us about your preferences
We'll recommend perfect looks
Try them on with our Makeup VTO
Our artificial intelligence algorithm was trained on over 10,000 selfie images leveraging the expertise from L'Oreal makeup experts. Take a look at our technology page to find out more about why we excel above the competition.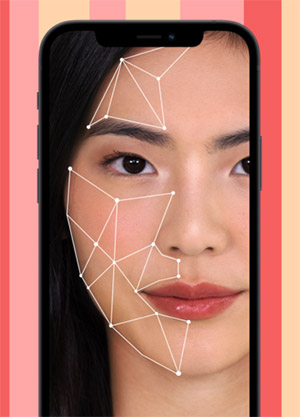 Interested in learning more? Contact us today!