ModiFace Nail Virtual Try On
Tired of choosing a nail color only to be surprised or unsatisfied with the result after your nail polish dries? Look no further than ModiFace's Nail Virtual Try-On technology! Using our state of the art precision hand tracking, users are now able to try-on their favorite nail shades, virtually, ahead of actually applying the shade on their nails. The technology also gives users the ability to try-on nail art looks with the click of a button. Trying on nail shades virtually takes the guesswork out of picking a color and provides users with a personal and fun experience.
We support various platforms, including:
The software comes with a wide variety of features, such as:
Live Video and Photo Mode
Precision Hand Tracking
Realistic Textures and Finishes
Nail Art
Multi Color Nails
Save and Share
Why Choose ModiFace?
ModiFace has worked tirelessly to become the leading provider of beauty technology try-on services, backed with 15 years of industry experience. As a member of the L'Oreal family, our specialization in the beauty industry can't be matched. Together with brands like Essie, ModiFace is able to deliver state of the art solutions that understand your hands and the products you love. We have a deep understanding of all things beauty and know how to deliver the personalized experiences that consumers deserve. Take a look at our technology page to find out more about why we excel above the competition.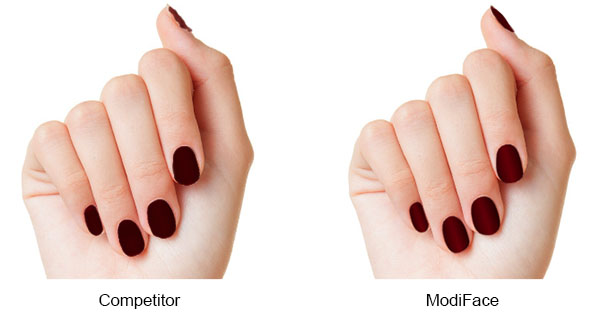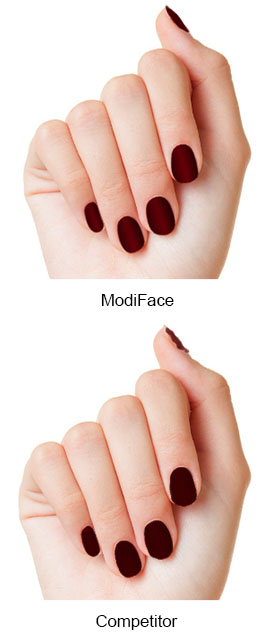 Pricing
Everything above is included for a single annual license fee, regardless of features, number of platforms or how many products you set up. To learn more, check out our pricing page. Looking for even more features? Take a look at our add-ons below!